Hello guys,
For those of you who own E6X's or F10X's and have tried to go online with it and then after 99% load it asks you for a password when one was not originally set this is a communications error that can be simply addressed.
1. Go into your Device Manager (right click on your "My Computer" icon and hit the Manage option, then find the Device Manager in the navigator on the left side pane), then locate your COM Port option.
2. Double click on the Serial comm port you may have, it may be either a USB adapter or a direct serial port.
3. Next, go to the Ports Settings tab and change the settings the same as follows, and make sure you've selected Com1 as the port used, the software will have all these settings already there, so you wont need to change anything in the Halwin. To change the comm port you will need to hit the 'Advance' button on the Ports Settings tab.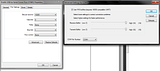 4. Hit 'Apply/OK' and close out of the device manager and restart the Halwin Software and try to go online again, this should clear the password error, you should also reload your map again to make sure all has been properly set and configured in the ECU.
Note: This applies to Windows XP, Vista and 7, your My Computer Icon may be also located on the Desktop.

Note: For Vista and Win7 users, when installing any Halwin software, you must run the .exe file as administrator, or you might not be able to install it properly or windows may block the comm port. To do this, simply right click on the .exe file before you install the software, go into the Properties option, and tell windows to "Run as Administrator", this will let you install the software properly. Finally, 64bit machines will not be compatible with any old Halwin/HalwinX software, as they are only meant to run on Windows 32 bit systems. You will basically need to either format your machine and install a 32bit version of Windows (for Vista owners i suggest updating to Win7, or, find a 32bit machine to install this on. Most Pentium Dual Core machines were 32bit, so you can get a cheap laptop with Win7 32bit and all will be fine.